The picture above has been my profile picture across a whole host of sites since 2010.
It was taken by Chris Floyd whilst we were dicking about after I'd been shot for his 140 Characters project.
It's a great picture, I think, but there was a sad story behind it that I went into detail about here.
At the beginning of this month I was discharged from hospital, having been under the continuous care of various hospitals my entire adult life. It was a GREAT day, doubly so as I'd found a free parking space moments before the appointment.
Some people won't know that I've been really very unwell (awesome!) whilst others will know the ins and outs of everything I've been through all too well (sorry!).
So what was up?
As I finished growing into a human adult person, my jaw didn't play along. My jaw joints crumbled and my muscles tried to overcompensate, eventually leaving me with spinal problems that even affected my ability to use my hands. I couldn't close my jaw, but I couldn't open it more than a couple of centimetres either. I was like a useless frozen statue. And a very miserable one. The pain was constant – for years – and during the worst periods I was taking more than 20 tablets a day to 'get by', spending one day a week in hospital having needles put all over my body to try and relieve some of the pain. Having steroids and nerve blocking meds injected into your spine is truly the definition of NOT FUN. And you don't even grow cool muscles or anything.
Years of chronic pain is hard to describe. And now that I've had a year of being well the last thing I want to do is go on about it (she says, whilst going on about it). Thankfully though, I eventually found the right maxillofacial team to treat me and, as I said, I've this month been discharged from hospital.
I literally never thought this day would come.
The picture of me hiding my jaw with a drawn on smile, symbolises so much sadness to me. But, bloody brilliantly, I can also now say that it represents my past. I want my 'present' (and future, please God) to be about being physically fit, strong and healthy.
So what am I doing to mark this new found wellness?
Well I wanted to do something very physical, because I simply haven't been able to be physical for so many frikkin years. Once your neck is gone, you really can't do very much at all.
And I wanted to raise money for charity, to 'do good' but also – if I'm really honest – to stop me from just quitting as soon as it gets hard.
It needed to be something bloody terrifying that I wouldn't find easy. So what have I gone and done? I've signed up for three open water challenges. Of course.
I've only been able to start swimming again in the last month, partly spurred on by this shoot I did for Zest Magazine, but mainly because it's low impact and I don't have to fear ruining everything again.
I've never swum in a lake. I've never worn a wetsuit. I've never trained for anything. Ever. I mean bloody hell, I've truly never been physically fit in my entire life.
But I've joined a pool. I've got a swimming coach. I have permanent goggle marks on my face. And no matter how hard it is I'm going to RUDDY WELL DO THIS.
Open water swimming isn't like swimming in a pool. Or at least that's what people keep telling me, I've never done it so I have no idea except for the recurrent nightmare that I'm already having where I simultaneously get kicked in the face by a fellow swimmer whilst having an asthma attack whilst getting my foot caught in weeds and drowning. (SCARY SCARY SCARY).
It will be cold. It will be dirty. There'll be currents. There'll be waves. There'll be twenty billion other swimmers front crawling all over me. Almost certainly an eel electrocuting me. I probably won't even be there tbh as I won't have been able to get my wetsuit on without help from my mum.
But yeah. I'm going to try.
My swims will gradually get harder and the first one is frighteningly soon. I haven't really thought about this. Oh god.
These are when they are:
Eton Dorney – 27th May – 1.5k
Lake Windermere – 16th June – 1 mile.
River Thames – 21st July – 2.25 MILES
I've chosen to do all this to raise money for Barnardo's – the UK's largest children's charity. You can head on over to my JustGiving page to read why.
So I'm filing my 'fake smile' profile picture away, regardless of how much I know people love it and associate it with me, and changing over to this pic of me in swimming gear. (Albeit much nicer swimming gear than I'll be tackling the Thames in).
This shot was taken by Peter Pedonomou. Well actually I took this picture but it's a picture I took of a picture by Peter Pedonomou. You know what I mean.
Let it be known now that I'm not expecting to enjoy this 'summer of swimming'. Physical activity does not come naturally to me. Illness was a convenient excuse for the last few years, but I wasn't exactly god's gift to PE when I was younger. The fat girl that drops the baton and ruins the relay for everyone? That's me. One sports day my official role was "ringing the bell". So yeah, sports challenges aren't 'my thing'.
Over the course of the three swims, I'm going to try my damndest to raise £3000 for Barnardo's. I will write a separate post shortly on why that's the charity I have chosen to support, but my JustGiving page is here so that you can donate easily online. And I've set up a text code too, you can text POPS98 plus the amount you wish to donate to 70070 e.g you'd send POPS98 £1 to 70070 to donate £1. (The more you donate now, the less I will have to drive you mad about it, FYI).
OR YOU CAN JUST CLICK THE BUTTON BELOW TO DONATE. PERHAPS RIGHT NOW?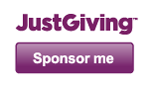 I know announcing that you've changed your profile picture as if it matters to anyone at all can make you sound like a bit of a dick but, when I think of what I've been through over the last few years, I can't overstate enough what a big deal it is for me to be changing mine.
I hope you don't miss smiley hands too much, I certainly don't miss how I felt when the pic was taken.
xxx